Blizzard's Diablo 4 is quickly coming up on its planned release date with a free open beta running this weekend. Anyone can jump in and play without pre-purchasing Diablo 4. Here's what you need to know about when it's starting, ending, and everything else.
A Taste of the Dark World of Sanctuary
The open beta will allow players to explore a large portion of the game, offering a generous taste of what the full version will entail. Players can try out all five character classes – Barbarian, Druid, Rogue, Sorceress, and Necromancer.
The beta is slated to include a wide array of quests, dungeons, and events, showcasing the various new mechanics and features of Diablo 4. However, there's a level cap of 25 for the duration of the beta. It's worth noting that level 25 is technically half of the base levels in Diablo 4 so that's pretty good for an open beta. Through the Paragon system, you'll be able to level up to 100 in the full game.
When do the Gates of Hell open?
The Diablo 4 open beta will commence on Friday, March 24th, at 9a.m. PDT and will last until Sunday, March 26th, at 11:59 p.m. PDT.
Players across all platforms, including PC, PlayStation, and Xbox, can participate in the open beta. To download the beta client, head to the official Diablo 4 website (https://diablo4.blizzard.com/en-us/beta), and follow the instructions for your platform of choice.
Features and Highlights of the Diablo 4 Open Beta
Shared Open World: Diablo 4 introduces a shared open world, where players will encounter other adventurers during their journey. This creates a more dynamic experience, where gamers can choose to team up or venture forth solo in the dark lands of Sanctuary.
Improved Combat Mechanics: The combat mechanics have been refined and expanded, offering deeper gameplay and more strategic options. Each class now has unique abilities and mechanics, with the Druid's shapeshifting and the Rogue's combination of ranged and melee attacks being prime examples.
Player-vs-Player (PvP) Zones: PvP enthusiasts will have a chance to test their skills in special PvP zones scattered throughout the game world. Battle for rewards, glory, and bragging rights in these thrilling, high-stakes areas.
World Bosses and Events: The open beta will feature several world bosses and events that will require teamwork and strategy to defeat. These encounters will showcase the game's larger scope and the importance of cooperation among players.
Extensive Customization Options: Character customization has been enhanced in Diablo 4, with players having more control over their character's appearance, abilities, and playstyle. The new Rune and Legendary system will provide additional depth and replayability.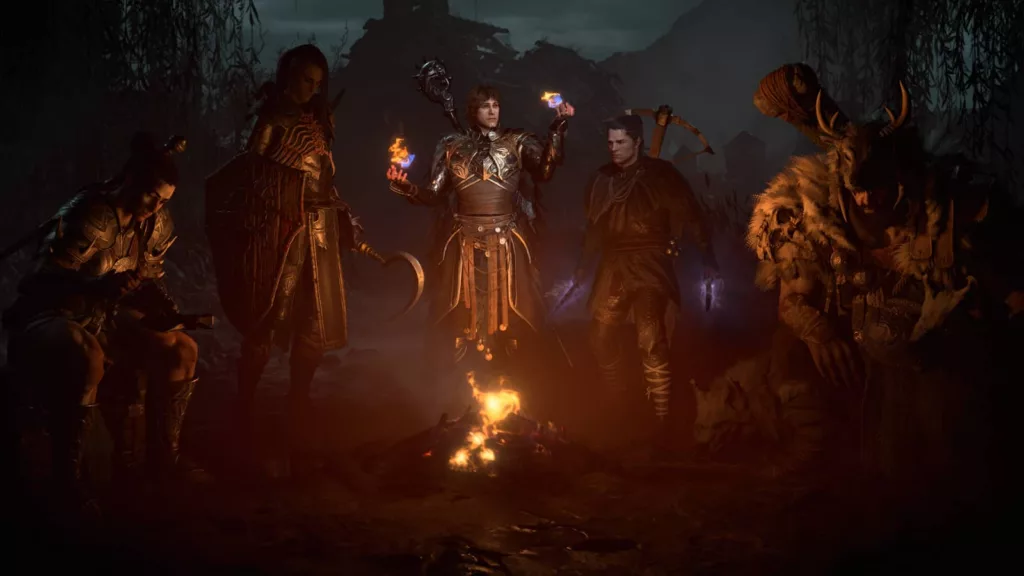 Preparing for the Beta: Tips and Recommendations
To ensure a smooth experience during the open beta, make sure your system meets the minimum requirements listed on the Diablo 4 website. It's recommended to update your drivers and ensure you have at least 50GB of space on an SSD to accommodate the beta client.
Also, be aware that progress from the open beta will not carry over to the final release.
Minimum Requirements
OS: 64-bit Windows 10
Processor: Intel Core i5-2500K or AMD FX-8100
Memory: 8 GB RAM
Graphics: NVIDIA GeForce GTX 660 or AMD Radeon R9 280
DirectX: Version 12
Storage: SSD with 45 GB available space
Internet: Broadband Connection
Recommended Requirements
OS: 64-bit Windows 10
Processor: Intel Core i5-4670K or AMD R3-1300X
Memory: 16 GB RAM
Graphics: NVIDIA GeForce GTX 970 or AMD Radeon RX 470
DirectX: Version 12
Storage: SSD with 45 GB available space
Internet: Broadband Connection
Blizzard encourages players to provide feedback on their experiences during the open beta. This input will help shape the final product, making Diablo 4 an even better experience for everyone. To share your thoughts and suggestions, visit the official Diablo 4 forums or engage with the development team via social media channels.
Don't miss out on the opportunity to step into the dark, captivating world of Sanctuary before the official release. The Diablo 4 open beta weekend promises to be an unforgettable gaming experience filled with epic battles, new environments, and the thrilling, addictive gameplay that the Diablo franchise is known for.
With new mechanics, an expansive world, and fan-favorite classes returning alongside the fresh Necromancer class, this sneak peek into Diablo 4 will surely leave players eager for more.
The Countdown to Sanctuary Begins
The excitement is undeniably palpable as the Diablo 4 open beta weekend approaches. Set a reminder, gather some friends, and prepare to embark on an unforgettable journey through the treacherous yet mesmerizing world of Sanctuary. Will you emerge victorious in the face of demonic hordes and terrifying bosses, or will the darkness consume you? Only time will tell, as the gates of Hell open from March 24-26.
Don't forget to stay connected with the Diablo community during and after the open beta, as players around the world share their experiences, strategies, and passion for this highly anticipated game. With just a taste of what Diablo 4 has to offer, the wait for the full release will be more agonizing than ever. But rest assured, the adventure that lies ahead will be well worth the wait. So gear up, choose your class, and prepare to face the darkness in Diablo 4's epic open beta weekend.